Appliances

Big Chill appliances--so cool!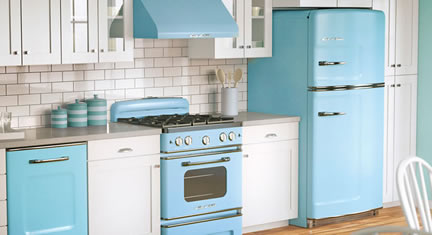 Kenmore-brand appliances: at least some models are made in USA. Available from Sears and KMart. (Sears is a retailer, not a manufacturer, so Kenmore washers and dryers are manufactured by many different companies, including Amana, Frigidaire, GE, Jenn-Air, LG, and Whirlpool. Enquire about the origin of the model you are interested in.)
Staber Washing Machines (Groveport, OH): energy efficient top loading tumble action washers, for residential or commercial use. These unique washers have a six-sided inner tub that rotates inside a stationary half of an eight-sided outer tub. The washers use much less water, detergent, and energy than traditional top loading washers. Each load is larger because there is no agitator taking up space. Because of their energy efficiency, these washers also are suited for homes using solar power. The website has informative video and photographs that explain how the washer works.
Speed Queen (Ripon, WI): best known for coin-operated laundry equipment, Speed Queen has brought its reputation for quality and durability into the home market. All Speed Queen brand laundry equipment is manufactured in Ripon, Wisconsin by Alliance Laundry Systems. Check the site's dealer locator.
Whirlpool Corp. (Benton Harbor, MI): 9 manufacturing facilities in U.S., including clothes washers (Clyde, OH), dishwashers (Findlay, OH), compact and chest freezers (Ottawa, OH), slide-in and freestanding ranges (Tulsa, OK), refrigerators (Amana, IA), and KitchenAid stand mixers (Greenville, OH).
Maytag Corp. (

formerly of

Newton, IA): On March 31, 2006, this U.S. manufacturer of washers, dryers, refrigerators, and dishwashers became a subsidiary of Whirlpool. Whirlpool continues to market Maytag Corp. brandnames, including Maytag, Amana, Magic Chef, and Jenn-Air, but closed the Newton facility.
Sun Oven (Elburn, IL): light-weight portable solar oven consisting of an insulated box with folding aluminum reflectors, a glass window, and carry handle.The Sun Oven can be used year round for baking, boiling and steaming foods. My sister bought one of these and reports that it cooks wonderful bread!
SunRise Solar Inc. (St. John, IN): American-made solar-powered attic fans, easy to install out of the box. Models for shingle, tile, shake and flat roofs, eligible for Federal tax credit.
SunWorks™ Solar Food Dryer (Eugene, OR): outdoor solar food dryer with 2 aluminum food screens, an absorber heating plate and a wood cabinet, sold in kits ready to assemble.