Kitchen and Dining

Ontario Knife Co. (Franklinville, NY): Old Hickory Kitchen Cutlery with wooden handles and brass rivets, as well as a full line of sporting/outdoor knives and other "edged" tools.
Preserve Products (Waltham, MA): makers of kitchen and tableware, including cutting boards, colanders, bowls, and cutlery, all made from 100% recycled plastics in wonderful bright colors.
Rada Cutlery (Waverly, IA): a great selection of cooking knives and utensils by Rada Mfg. Co.
Specialty coffees roasted in Pennsylvania...

Duparquet Copper Cookware (East Greenwich, RI): hand-crafted copper cookware, truly beautiful and heirloom quality. Pots and pans have brass or cast-iron handles and are tin-lined by hand (with the option for silver-lined).
Emerson Creek Pottery (Bedford, VA): handmade and hand-painted pottery for baking, serving, and dining. Beautiful patterns and an unusually broad range of products. Bakeware includes casserole dishes, decorative shortbread pans, loaf pans and bread bakers.
Field Company (New York, NY): lighter weight cast iron cookware, manufactured in the Mid-West. I was interested to see use of their products to bake bread and pies, not something I normally associate with cast iron cookware. (Besides corn bread, that is!)
FINEX (Portland, OR): unique octagonal cast iron cookware with steel spring handles to stay cool longer. Skillets, grill pans, Dutch ovens and sauce pots, all available with or without cast iron lids. These are really special.
Granite Ware by Columbian Home Products (Terre Haute, IN): after more than 150 years, this manufacturer of the iconic porcelain on steel bakeware, roasters, and canners

closed its doors in spring 2020

. It wouldn't feel like Thanksgiving if I didn't get out that roaster! In future you may see Granite Ware in stores again, but it will no longer be made in USA. This one hurts.
Lancaster Cast Iron (Conestoga, PA): lightweight cast iron skillets, plus Amish-crafted wooden cooking utentils, cutting boards and more. [Affiliate: I earn commission on purchases through this link]
LloydPans Kitchenware (Spokane, WA): hard-anodized aluminum cookware, bakeware, and pizza pans, all with a nontoxic, permanent nonstick surface and all manufactured in their Spokane facility.
Lodge Cast Iron (S. Pittsburgh, TN): the original cast-iron cookware, and now carbon steel pans, still made in USA. Classics include skillets, griddles, and Dutch ovens (

Lodge Enamel and stoneware products are imported

)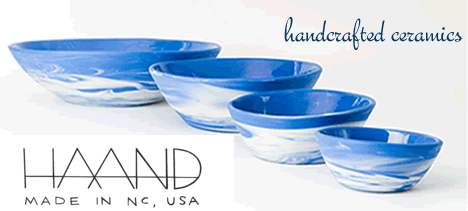 Hanselmann Pottery (Corrales, NM): a full line of handmade stoneware with a creamy oatmeal-colored glaze, beautiful in its simplicity.
Heath Ceramics (Sausalito, CA): hand-crafted and glazed tableware with timeless simplicity and elegance.
H.F. Coors China Company (Tucson, AZ): dinnerware with Southwestern flair, including tableware, mixing and serving bowls, and chili pepper-shaped snack bowls. (Their cereal bowls are a particularly graceful shape.) The company also makes china for restaurants and other commercial customers.
itemerie: an eco-friendly collection of home products, including kitchenwares, table linens, and beauty products. Look for the product badges for find handmake, natural or vegan, and made in USA and Canada. [Affiliate: I earn commission on purchases through this link]
Lenox (Kinston, NC): fine bone china made in a 218,000 sq. ft. facility in NC, including 9 of the top 10 Lenox patterns (a number of patterns are now imported so search for "Made in USA").
Libbey Glass (Toledo, OH): makers of juice, water, wine and specialty glassware. A growing number of Libbey products are made outside the USA, so check origin. The up-scale Libbey Signature wine, martini and pilsner glasses are all made in USA.
Liberty Tabletop: American-made 18/10 stainless steel flatware made by Sherrill Manufacturing (Sherrill, NY), which purchased Oneida's flatware manufacturing facility in March 2005. Update: The company paused production for a time in 2010, but is now back in production and making a number of flatware patterns!
Stoneware and Co. (Louisville, KY): handmade, hand-painted pottery and ceramics for table and home, since 1815. Some truly remarkable patterns.
Lunt Silversmiths (Greenfield, MA) ceased manufacturing in 2007 after 107 years making sterling silver flatware and tableware.
Mosser Glass (Cambridge, OH): beautiful molded and pressed glass serving pieces and tableware, including the translucent Jadeite.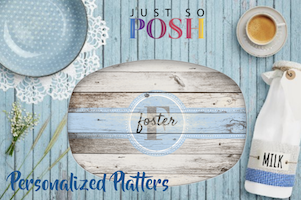 Holland Bowl Mill (Holland, MI): wooden bowls, salad bowls, and cutting boards
Just So Posh (Port Canaveral, FL): personalized mugs, platters, laminated placemats and canvas wall art. Look for "made in USA" logo in product descriptions. [Affiliate: I earn commission on purchases through this link]
Mosser Glass (Cambridge, OH): beautiful molded and pressed glass serving pieces and tableware, available from Food52
New Hampshire Bowl and Board (Contoocook, NH): beautiful wooden bowls, servers, utensils and cutting boards, all made in New Hampshire from a variety of hardwoods.
Salisbury Fine Metal Artisans (Easton, MD): formerly Salisbury Pewter, this company makes fine pewter and silver wares, cast or formed on a spinning lathe. Everything from baby rattles and cups, to bowls and trays, picture frames, and trophies. Handcrafted in their facility on Maryland's Eastern Shore. (Cast aluminum products are cast in Mexico and finished in Maryland.)
Tableboards by Spinella (Fairfield, IA): all-in-one cutting and serving boards of maple with cherry and walnut inserts with non-scratch feet, plus smaller cutting boards and pastry boards, made by Amish craftsmen.
Vermont Bowl Company (Wilmington, VT): salad bowls, cutting boards and more, made in Vermont from American black walnut, yellow birch, cherry and other beautiful woods.
Wilton Armetale (Lancaster Co., PA): long-time manufacturer of metal serveware closed its Pennsylvania foundry in mid-2009, and all products are now

made in Mexico and China

.
Woodbury Pewter (Woodbury, CT): wonderful pewter serving dishes, soup tureens, coffee/tea sets and lots more.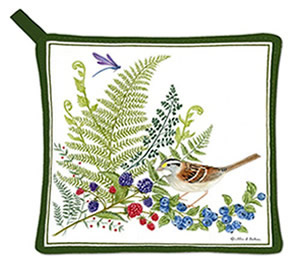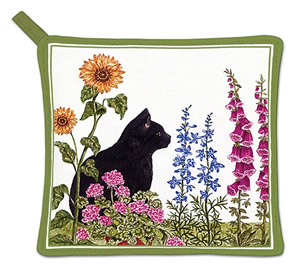 Alice's Cottage kitchen textiles at Amazon (As an Amazon Associate I earn from qualifying purchases)